HOW TO ORGANIZE YOUR WORK & YOUR LIFE
Sign up now for a more effective, satisfying, productive career and life
Join our newsletter distribution list! It's free!
This form subscribes you to our Some Recent Thoughts newsletter. You may opt out at any time. We will never share your information with anyone...ever!
What readers are saying...
I really got a lot out of this book. It's a great read, very clear and concise but most importantly what I liked about it best was that I applied some of his principles and in a week I saved myself a couple hours of extra time to do few other things I've been ignoring. Thank you Mr. Moskowitz

This book has the expected material on organizing yourself, your home, and your office, that you'd find in any number of books. But it also has an extremely valuable and specific chapter on how to set goals for yourself. It does not define WHAT goals you should set, but describes a useful process for setting up goals and breaking them into steps to help you make a plan for reaching them. The goals chapter alone is worth the price of the book.
This is a great book! It helped me get more organized and allowed me to be far more productive than I was before. I recommend it to anyone who feels like they could or should be getting more done than they are currently. I particularly liked the part about the 'Basic Choice.' Very smart!

When purchasing a book on getting organized, you must first find out what your goals are and what is it your really want out of life and business. You need help figuring out what your priorities are; this book helps you do that. When I bought the book I was trying to decide what to do with my life and this book helped me figure it out. It was the reason I finished college a semester ahead of schedule and helped me open my own office a year later. The detailed section on goal setting is invaluable. I totally recommend this book for anyone who is looking to prioritize and organize their work and their life in-order to achieve their goals and dreams.
Love Robert's writing style! A solid read - for any life-long learner.

Moskowitz has written an excellent title on different ways to eliminate the unnecessary clutter and techniques that rob us of precious time: 1. How to best use your garbage can (didn't they tell us the computer age was suppose to eliminate paperwork?!). 2. How to arrange the items in your office. 3. Getting control of your telephone. 4. Confirm appointments to save time. 5. A different plan for the homemaker or professional. 6. How to avoid unwanted meetings. 7. 5 easy ways to say no. Now that I've saved you time by writing a short review, go get the book and read to find out how you can save more time! Highly recommended!
Love it! This is such great advice. I love this sentence: 'Recognize that failure is at most only partially your fault.' - so true and something people tend to forget.
How to Organize Your Work and Your Life clearly accepts that without enjoying what you do (or some other strong motivation) everything's a chore. So, the first chapter gets going right away with clever ways of asking you to search for answers to Difficult Questions about what you really want to do in life. Then the author takes you through activities to determine the steps needed to make Big Dreams become Happy Accomplishments. You will really feel energized after reading this book, and more calm. Calm because you have more knowledge about yourself, and calm because you will have more acceptance of uncomfortable truths about productivity and priorities and how time is finite.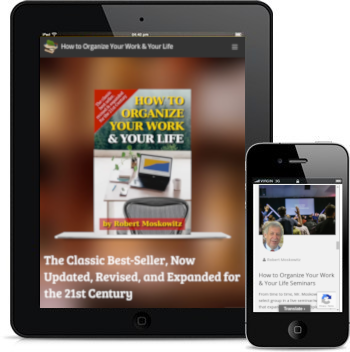 Read it on your favorite device!
You can benefit from the information in "How to Organize Your Work & Your Life" on every device you own. Read the eBook or listen to it on speech-enabled devices at work or at home, while you drive, bike, walk or jog, even while you're relaxing in the park.
Apple, Windows, Kindle, Android or Linux: they're all the same to us! The eBook edition of How to Organize Your Work & Your Life sold here includes Adobe Acrobat, ePub and Kindle versions. eBooks purchased through Amazon at the same price are solely the Kindle version.
---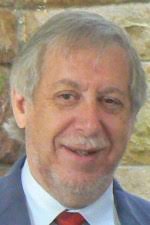 A word from the author
Since first published in 1981 and revised in 1992, How to Organize Your Work & Your Life has been very well received year after year. But life in the modern world has a way of changing rapidly, and so it became time to update, expand, and revise the book that for so many years has been helping people get the most from their work and their life.
As we struggle to cope with an onrushing 21st Century, the goal this time around, as always, was to meet the changing demands and lifestyles of America and the world.
With people facing changes and pressures that were literally inconceivable when I first wrote this book, I found myself eager to go through the material and find the places where I could update, expand, and revise the ideas, information, techniques, and strategies so as to make the book as valuable in years to come as it has already proven itself in years past.
I hope you not only get some valuable benefits from your exposure to this material, but that you also enjoy the experience.