The Positivity of Negativity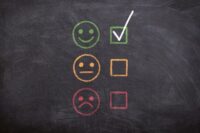 When you read back through my previous posts, you'll see that I generally emphasize the positive, and I want to do that again this time. But I want to show you how to find the positive impact you can sometimes find on the negative side of the ledger.
Here are four ideas that may help you:
Ignore What's Unimportant
At any given point in time, there are a million things to which you can pay attention. Some of them are undoubtedly important and possibly also urgent. You naturally pay attention to these.
But if you're like most people, you also pay attention to some unimportant matters, such as:
What you and others are wearing or watching on TV.
The details of routine matters, like lunch, document formatting, or clutter.
Fear of missing out.
Convincing someone to agree with you on something inconsequential.
When you gain the confidence to stop paying attention to these matters and let others handle them, or leave them to sort themselves out, you'll instantly free up a significant amount of attention, time, and energy which you can then apply to what's truly important in your life.
Embrace Failure
Many people think and feel that failure is a bad thing. But some of the most successful people in the world (Thomas Edison, John Watson, many others) have been willing to accept and even embrace failure.
If you take the right attitude, failure is a great way to learn not only what doesn't work, but what parts of the failure may have been worthwhile and might later contribute to success. Failure also builds and strengthens essential parts of your character, including humility and the drive to succeed.
What's more, a willingness to fail is a powerful antidote to inaction and "analysis paralysis." When you're willing to accept failure in certain circumstances, you feel free to experiment more readily and move forward incrementally. You can also gain some familiarity with new situations and relevant forces that may later contribute to your success.
Open Yourself to Criticisms
"Thin-skinned" people are reluctant to hear or accept even gentle or obvious criticisms, usually because criticism brings up painful memories or emotions. But this limits their ability to learn from their mistakes and improve their future performance.
When you change your attitude and open yourself to fair-minded, honest criticisms, you begin to strengthen your capabilities because:
Accepting criticisms becomes less painful and difficult.
You gain insights from the perceptions, knowledge, and experience of others.
You gain confidence in what you're doing right, and in your ability to change.
You build stronger bonds with helpful others and potentially can add them to your team.
Unless you're already perfect, there are undoubtedly traits and behaviors you can improve. You'll quickly discover that opening yourself to criticisms is one of the best ways to grow.
Look for What's Lacking
While we're on the subject of personal perfection, it's probably fair to say you can't do everything equally well. Wherever you're relatively weak, that's a place you can fruitfully ask for help, advice, and other forms of support.
In most situations, it turns out that knowing where you can use help is just as important as knowing where you don't. With a clear idea of your own strengths and weaknesses, you can look for contributions from others in specific areas where you most need them.
This approach will help you in three ways:
It will allow you to concentrate your efforts in areas where you're strongest,
It will allow you to obtain better results in areas where you're weakest, and
It will help you feel more comfortable that you are properly handling the full range of your obligations and opportunities.
The simple idea is that these and other "problems" can often be reconsidered as "opportunities to do better." By redirecting your efforts in these and other areas, you can find new avenues for improving the quality of your work and your life.
Important: If this material resonated with you, please take a moment to forward it to someone you care about who might also benefit. If this material was forwarded to you, please click here to subscribe and have me send these posts to you directly in the future. In either case, please "stay tuned" to read more great stuff in the future. Thank you in advance for helping fulfill my dream – of making all of us more productive and successful – by spreading this information far and wide!